Valley Food Storage Review
Valley Food Storage is one of the newer companies to start making pouch meals designed for emergency use and long term storage. Anyone who has ever tried freeze dried or dehydrated food, such as some of the more heavily advertised companies that we covered in our last pouched meal review, knows that there is a good bit of variation out there. VFS was started with the idea of using better ingredients with no "added preservatives, MSG's, or GMO's", so we were quite interested in giving a few of their meals a chance.
All three of the meals that we received came packed in a 5mil Mylar pouch. The pouches are nitrogen purged and do not contain oxygen absorbers. Since most people would be buying this type of food for use during an emergency, we prepared all the meals in the provided pouches. This minimizes fuel use and cleanup after cooking. Water was brought to a boil, measured, added to the pouch and then everything was given a one minute stir with a whisk before being zipped shut. The pouchs were kept in an insulated "pouch cozy" for twenty-five minutes, to allow plenty of time for rehydration of both the freeze dried and dehydrated ingredients. All of the food was still too hot to touch at this point. One thing to note is that some of the meals cannot hold the full amount of water listed on the directions, if rehydrated in the packaging. However, this did not cause any real problems, since there is not any evaporation during "simmering time", after you seal the pouch.
The first meal to go before our group of a half dozen taste testers was the "Irish Pub Style Cheddar Potato". This is a variation on potato soup with visible square potato flakes in the pouch. A cooking tip is to give the pouch contents another good stir before serving, just due to the potato flakes settling during rehydration.
Overall, our taste testers liked the Irish Pub Style Irish Potato (Soup). The general agreement was that, although it is not quite as good as homemade potato soup, it is better than anything else that we have gotten from the store. It is a nice, thick soup with clearly visible potato pieces that all rehydrated well and has an obvious cheese flavor. There are also occasional bits of peppers in the mix.
The second meal to go before our panel of six was the White Bean & Lime Chili. Once again, when looking in the pouch, we could see obvious and recognizable ingredients, such as beans, onion bits and pepper pieces. This pouch also benefited from a second good stir before serving.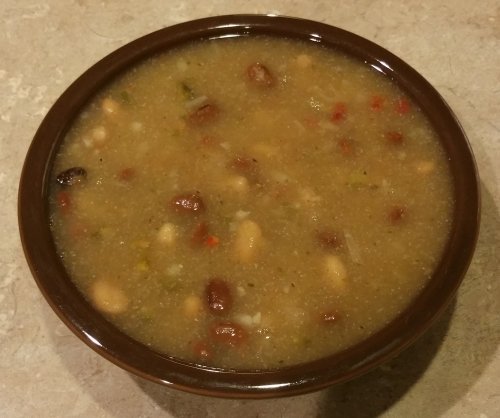 The White Bean & Lime Chili is excellent. Personally, I thought it was delicious and certainly good enough to take on backpacking trips or other non-emergency adventures. The other testers agreed. All of the ingredients rehydrated properly, as well as also having clear and distinct flavors. The jalapeno and cayenne peppers give the chili enough of a kick to keep it interesting. It is not eyewateringly hot chili, but there is some spiciness there.
The last entree to go under the spoon was Pasta Primavera. This was the only one of the three meals tested that did not do all that well when rehydrated in the bag. Some of the pasta pieces towards the bottom were still just a little north of al dente. But, five more minutes in the bag and an extra stir half way through "simmering" should be an easy fix.
The Pasta Primavera has a strong cheese flavor along the lines of parmesan or asiago. This was the surprise favorite meal of our family's "picky eater" member of the testing team. One of the other testers did note that the sauce was "a bit thin" due to bag cooking, but the taste was well received.
The good news is that, based upon the entrees that we sampled, Valley Food Storage has met their goal of making pouch meals that really are tasty. None of our testers complained about any kind of chemical aftertaste or strange flavors, some of which we have found in a few of the competing food products. That said, there are a few things to be aware of before stocking up. VFS uses the same "serving" unit of measure that is common in this industry. Since an individual serving in the meals we tested varied from 230 to 380 calories, customers should make sure to plan for enough side dishes or extra servings to meet everyone's daily caloric needs during an emergency. This can be a good opportunity to add in more protein, fruit and veggies on the side. The second issue is that, while we were pretty excited by all the recognizable ingredients, the Pasta Primavera does list Gistex as being in the bag, which is a glutamic acid flavor enhancer made from yeast, which shares some similarities with MSG. Neither one of those is necessarily a deal breaker, but both are things to be aware of before investing in food that might not get eaten for years. Compared to much of the competition, Valley Food Storage is a step in the right direction if folks are shopping for "pouches in a bucket" food storage.