Spyderco Delica … 25 Years Later
I still remember the excitement of walking into the local hardware store almost twenty five years ago with a wad of small bills and some change jingling in my pocket and leaving with a brand new Sypderco Delica. All throughout the 1990s and into the 2000s that little Delica went on countless trips and saw parts of at least a dozen states. Other than some scratches, with interesting stories, it still cleans up well and will hold a shaving sharp edge. But, you can't blame a guy for wondering, after twenty five years, what has changed with the Delica?
There are some pretty obvious changes between the first and fourth generations of Spyderco's Delica. The outside texture has shifted from the Volcano Grip on one side to Bi-Directional Texturing on both scales. There is also additional texturing and jimping along the spine of the knife. Originally, the Delica had a clip that was molded as part of the scale. While this worked well enough, the latest generation has upgraded to a steel clip, which has four possible mounting positions. The new clip also has a stronger grip on the pocket and a curve which is the perfect place to put a thumb when grabbing the knife. Other upgrades include the change to screw together construction, the addition of a stainless steel frame "hidden" under the scales and a Boye dent on the release to help prevent accidental opening. However, when compared side by side, it is easy to see the heritage of the newer Delica 4.
As for the pointy end of things, every Spyderco folder I've handled over the last twenty-five years has had solid lockup with zero play. This really is an area where knives like the Delica should be the standard which some other makers compare against. The blade steels themselves have undergone a progression from the original hollow ground G-2, to AUS-8, then ATS-55 and finally the flat ground VG-10 in the latest models. There are certainly other grinds available and even runs with boutique steels such as ZDP-189.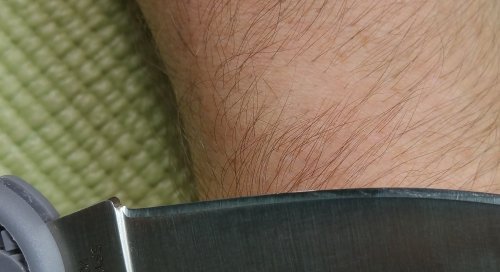 Even though it is the default option, VG-10 is a Japanese stainless steel that gives the user lots of bang for their buck. It was originally intended for very high quality, rust resistant kitchen knives, but quickly found its way into other knife markets. The 2.875 inch blade on our Delica 4, which was purchased from Amazon, went from factory sharp out of the box to shaving sharp after a half dozen passes on a leather strop. It stays that sharp with just an occasional touching up. When paired with reliable heat treating and well thought out geometry, VG-10 makes an excellent blade.
Spyderco's Delica 4 should not be overlooked as an option for an every day carry knife that will serve quite admirably in outdoor adventures or emergency situations. The quality blade and ergonomic handle make short work out of turning fatwood chunks into a pile of tinder. At only 2.4oz, the Delica 4 is all but forgotten in a pocket or pack. Also, with a little practice, the hole in the blade allows for easy, controlled one handed opening for both right and left handed users. Not only does the latest Delica have the makings of a solid emergency knife, but its non-tactical profile and availability in nonthreatening colors, such as purple and blue, makes it a carry option where big, chunky flippers would raise eyebrows. Although my original Delica has impressive sentimental value, after twenty five years of refinement, the Delica 4 is the epitome of the knife that should be clipped to your pocket.