Sightmark Ultra Shot M-Spec LQD Reflex Sight Review
The Sightmark Ultra Shot M-Spec LQD Reflex Sight has clearly been designed with close range shooting in mind, likely by someone holding an AR15. It has the solid feel of a well-built optic, straightforward controls, and a competitive price point. In our testing, multiple shooters found it intuitive and easy to use.
M-Spec is the high-end of Sightmark's reflex sight product line. The lineup starts with R-Spec as the "range" oriented base model. Then, A-Spec in the mid-range, which adds "advanced" features such as brightness settings for night vision and a more durable build quality. M-Spec, which obviously references "mil-spec", adds to that feature set with a durable build that is waterproof to 40 feet and is recoil rated up to .50 cal. Since Sightmark is more commonly known by many shooters for their value-oriented optics, it is good to see that they are also competing with higher-end offerings.
The Ultra Shot M-Spec runs off of a single CR123A battery, which is the traditional size used by many tactical flashlights. Battery life is rated at up to 2,000 hours. In case the optic was to get left on, it has an auto shutoff at the twelve-hour mark. There is also a motion sensing on/off "sleep mode" that turns the reticle off after five minutes, but back on when the rifle is moved. This mode can be disabled by shooters who want to keep things simple. The four-way control button has the top position for on/off, the side positions for adjusting the brightness through ten different settings and the bottom is reserved for night vision mode.
One of the things that stood out about the latest Ultra Shot M-Spec was the retractable hood. Since much of our shooting here is done in the desert, this seemed like it could potentially be a very useful feature with our endless sunshine. However, in most situations, the fixed protective cowling provided enough coverage for the glass to make glare a non-issue. The hood really only became an asset in certain angles of direct sunlight.
The Ultra Shot M-Spec is designed to mount to a Picatinny rail with the flip of a throw lever. The sight locks firmly in place and has no wiggle issues once secured. A little banging around did not knock anything loose. The LQD in the optic's long name refers to the Locking Quick Detach mount. The throw lever has a locking slider that helps to prevent accidents such as gear straps snagging and pulling the sight loose. The mounting system is relatively simple and it works.
The brightness was easily adjusted to be clearly visible in the Arizona desert sun. The reticle is the classic "ring with center dot" design that is very similar to what you'be probably seen on an Eotech or Holosun. In short, the 60 MOA ring allows for quick acquisition of a target when you are in a hurry, such as defending yourself. If the ring covers a target, then just pull the trigger to get a hit. The 2 MOA center dot provides an aiming point for more precision over longer distances. Zeroing adjustments can easily be made with a flat head screwdriver or the side of a coin.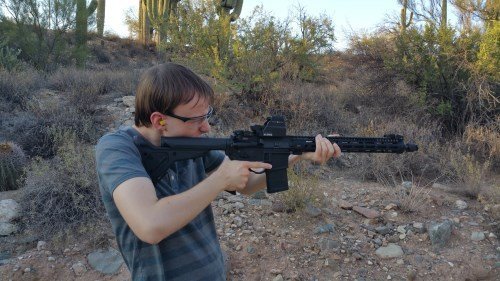 We were able to get the Sightmark Ultra Shot M-Spec LQD Reflex Sight in the hands of a few different shooters. It worked well for everyone without adjustment and the newer ones were able to effectively use the sight to get hits without any required explanation. One of the shooters summed up their opinion with "it is not too complicated and it gets the job done" which seems fitting. Amazon currently has it listed for just over $200 shipped, which is very competitive against similar models with a solid build quality and a lifetime warranty.