Shot Show 2017 – Day Three
It is day three of the 2017 SHOT Show and we are focusing on the second floor today, which is where the larger companies have their displays. Our goal, once again, is to hunt down some of the new and interesting products at the show, while trying to hunt up a few "hidden gems".
The highlight of the Windham Weaponry booth is the demo of their new MCS System. The complete kit that they have on hand is a hard case full of quick change gun parts. It is one AR system that can be set up to run .223, 300BLK, 7.62×39 and 9mm, all on the same lower receiver. I didn't run a timer, but it did look like the rifle could go from .223 to 7.62×39 in about a minute, including barrel and magwell swapping.
Zippo has an interesting new line of firestarters out on display. I've always considered the Zippo lighter itself to be an impressive fire starter, and have been carrying the same one for over twenty years. But, they are expanding their line to include a well thought out ferro rod set, spark starter kit and a case full of some of the biggest matches I have ever seen.
For those of you that still are not sure whether or not suppressors are the next big thing in the gun world, consider that even Ruger is making one this year. The Silent-SR is their new .22LR, .17HMR and .22WMR rated silencer. It is build with a titanium tube and stainless baffles.
Magpul has a survival oriented product this year with the new X-22 Backpacker stock. It is designed to replace the factory stock on the takedown versions of the 10/22 rifle. The barrel section clips into the bottom of the buttstock for storage. There is also a small waterproof compartment on-board and room for storing three extra loaded magazines under the cheek rest.
Polycase is expanding their polymer/copper based defensive ammunition to include both additional calibers and range ammo. They will be offering bundled packs that include 100 rounds of RNP range ammo for target practice and 25 ARX defensive rounds for personal carry. There should also be good news later on this year for those of you who are die hard 10mm fans.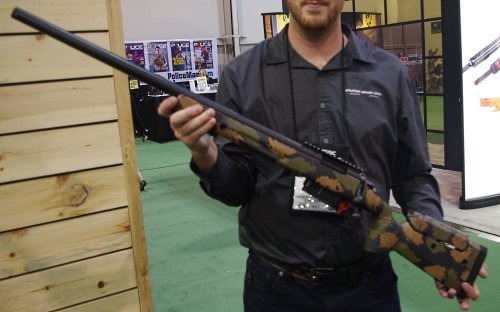 Surgeon has the rifle that I most want to take home with me today. This Left Handed .260REM Scalpel is hanging on the back wall of their display and called out to me when I walked by. If it had a threaded barrel, that would be enough for me to think that the Surgeon Rifles folks can read minds.

Voodoo Tactical has an interesting concept in their Hydro Runner/Recon Pack. The Runner is a lightweight hydration pack and has the only shoulder straps for the set. What changes things up is the Recon "overbag" which adds multiple pockets and expands the carrying capacity to daypack status.
SureFire has a composite AR15 lower on display at their booth. The SFI-15 is a complete lower, minus buttstock, that weighs in at 1.1 pounds. While non-aluminum AR lowers are not new, what caught my attention is that one of the test units has 65,000 rounds through it so far. They have also redesigned the trigger assembly to allow the safety to be flipped on at any time.

CAA has multiple versions and prototypes of the Roni out on display. This is easily the best Glock pistol carbine conversion that I've seen. It feels very natural in your hands and going from handgun to carbine is just a matter of dropping the Glock into the kit and locking it in place.
Hogue has the day's stand out knife design with their new out-the-front automatics. They come in four different handle colors, all sporting the same 3.5″ tanto style blade. The action on the top switch is crisp and the blade jumps out of the handle or back with just a firm thumb push.
Remington has an neat new offering in their Model 700 Magpul. I'm glad to see a factory built rifle that comes pre-loaded with what are often after market accessories such as a detachable magazine, Cerakote finish and threaded barrel. For a "new guy" starter rifle, this would be an awesome package.
For those that are still doubting that FN makes a little of everything in the gun world, they have their RMP out on display. That is of course a Rocket Machine Gun Pod, which is just the thing when you need both a 50 cal and three 70mm rockets at the same time and is, with little doubt, the most extreme gun seen today.