SHOT Show 2016 – Most Interesting Finds
This year's SHOT Show was one of the biggest tradeshows to ever hit Las Vegas. There were multiple vendors for everything imaginable and tons of prototypes and new products. But, for all of you who couldn't make it this year, we've put together our "Best of the Show" list, so you can see some of the most interesting finds and attend in spirit. These top ten-ish are our picks due to their having a great booth and offering an exciting, creative or innovative new product.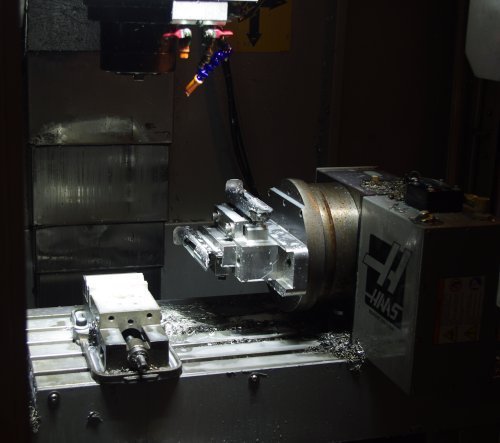 The most interesting booth to stand around and watch for a few minutes was Noreen Firearms. They brought a 4-axis CNC mill, which is bigger than some cars, to the show. Attendees could watch it slowly turn a block of steel into a nice looking, new Noreen 700 short action with an integral recoil lug and 20 moa rail. The machining process was fascinating.
The two best themed display rifles were the Star Wars AR in the American Defense MFG booth and the Captain America AR in the JP Enterprises display case. Both companies had lots of other black rifles out and also some surprisingly lightweight new .308 designs. But, the custom painted models were the attention grabbers for folks walking by the booth.
Bighorn Arms had some impressive bolt actions on display and AJ Goddard was on hand to discuss his work. What really caught my attention was a version of the smooth running model TL3 action that works with AI mags, Remington 700 triggers and stocks, but is threaded for Savage barrels. This would let a shooter build, for example, a top shelf .308 rifle, but then give .260 Rem a try with only a fairly simple barrel change, while still using their favorite stock, trigger, optics, etc. These actions also have a mechanical ejector, bayonet type bolt shroud, integrated recoil lug and Bighorn will be making these in both left or right handed models. If the aesthetics of a barrel nut don't bother you, then this could be the basis of a top notch "only one gun" rifle system.
Vanquest had the most interesting new piece of nylon gear with their Falconer-27 backpack. It looks quite well made and offers customization options with internal velcro panels and well though out organization. But, the real trick is that the larger bottom, outside compartment is designed to be the user's first aid/medical kit and remove the need for a separate pouch. Also, the wolf grey and black models they had on display looked much more "normal backpack" than "tactical collection". Michael, a member of the design team, explained that this was an intentional decision. If this pack was full of supplies and used as a get-home-bag after a disaster, then the wearer wouldn't look like a pinata to potential opportunists.
The most interesting new sight setup was, without a doubt, the See All Nite Sight. This unit replaces the rear sight on a Glock, etc. and does not make use of the front sight at all. Instead, the shooter looks through a rear magnifying lens at the crosshair reticle engraved on a small front block. The block lights up like a green fiber optic sight during the day and is also illuminated from behind by a tritium source at night. I didn't get the chance to shoot with one of these this year, but if it works as well as it seems like it should, then this could be a real trick for both new and experience shooters.
There was some seriously stiff competition at the show between all of the optics companies this year. But, after looking through thousands of dollars worth of glass, the Lucid L7 was the most memorable scope due to a good design and bang for the buck. It is a true 1-6×24 that just feels like it was designed to live on top of a precision AR build. It's P7 reticle uses an illuminated 4 MOA circle for quick shooting, which surrounds a 1/4 MOA dot for precision work. This sits on top of a "MOA measuring tape" for quick holds on longer range shots. The vertical crosshair also has windage dots, but this is all executed in a way that makes logical sense and stays clean. There really isn't much competition for true 1x scopes with this feature set in the sub-$1000 price category.
There were so many knife related vendors present that another attendee jokingly commented in passing that he felt like he was at a knife show. That said, Steel Will was a real standout this year among the herd with the fit and finish of their new Gekko series of knives designed for the outdoors. We took the time to look at the Italian made Gekko 1500, 1551 and 1510, all using N690Co blade steel from Bohler in Austria. The finish work on these was as nice as some custom knives that I've seen. The 1500 is the full size folder and really fits the hand well, with the 1551 being it's smaller cousin. The only disappointment was that there is no left handed sheath option for the 1510 and it would be a shame to take something with that level of craftsmanship and have to modify it in my garage. But, both of the folders have a reversible pocket clip, so southpaws have not been entirely forgotten.
S3F Solutions brought their line of drop in, match grade pistol barrels to the show. They are currently only available for Glocks, but their price point is very competitive against well known companies, such as Storm Lake. The barrels are made from 416R stainless steel and available in plain stainless, black nitrite and gold TiN finishes.  Threading and fluting are both options. It was impressive seeing how good the S3F test barrel looked after being pulled out of a Glock used for competitions and having thousands of rounds fired. If their barrels shoot as well as S3F claims, then they are a bargain.
MyCaseBuilder would win our show award for Most Surprisingly Interesting Booth. Cutting foam just doesn't seem all that exciting and if you've ever done it before, getting results that look like a factory custom case can be rather difficult. I'll admit to having a Pelican case or two lying around that are totally functional, but the insides look like a pirate used his hook hand to hack the foam into shape. What makes this product pretty slick is that the MyCaseBuilder software already has a "shape library" for all kinds of common gun related items. So, getting a custom case made for a Glock 21 and two spare mags is just a matter of dragging the predesigned pistol and magazine shapes around on the screen. For unlisted items, there is a tool for creating custom cutouts. Anyone that can use photo editing software should be able to quickly create a professional looking case foam layout.
Operators Suppressor Systems gets the number one spot for my favorite all around presentation this year. Their radical suppressor design really is different than everything else that I've seen before. At this year's show, most every isle had at least one or two companies with cans on display. But, you could group all of these designs into some variation of monocore, K-baffle, M-baffle, etc. What sets the OSS suppressor apart is the total absence of baffles to delay the exhaust gasses as the bullet travels forward. Instead, their can functions as a series of stacked tubes that paths the gas through forty-one inches of additional travel before it exits the rifle. Since the gas always has somewhere to go, this eliminates the back pressure issue that can be so problematic for semi-autos. After going to the range and shooting OSS suppressors on various rifles in four different calibers, all I can say is that they just work as advertised. Since it was a fairly short indoor range, I don't really have any meaningful hands-on data for POI shift or accuracy, but as a left handed shooter firing an AR in both semi and full auto, there were no issues with getting a face full of gas when shooting. This OSS design effectively creates a whole new category of suppressors.