POF-USA Factory Tour
One of the advantages of the AR weapon system is that there are options for pretty much every interest, budget and intended use. Patriot Ordinance Factory got their start back in 2002 and now represents the higher end of the AR spectrum. Frank DeSomma, who comes from an aerospace background, started the company with the idea of innovating the AR platform. Since then, they have been a pioneer with ideas such as piston driven systems, one piece bolt carriers and dual extraction technology.  We had the opportunity to tour their Phoenix, Arizona headquarters and take a look behind the scenes to see how POF ARs are made.

After checking in at the front desk, we headed back to the assembly area.  The first thing that stands out about the space where these rifles are born is that it is clean and well organized. Don't get me wrong, there were plenty of AR parts around, but everything is stacked and sorted. There are multiple workstations for the assembly process and, since the staff is lean, everyone had their hands on a project.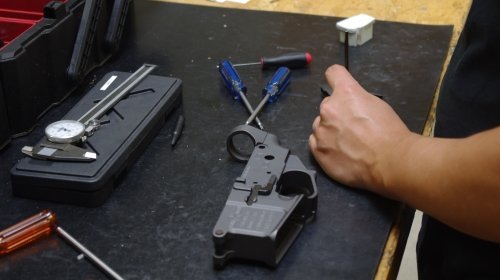 All POF rifles are built in house. As we walked past, a technician was in the process of assembling one of their lowers. I don't know if this one will end up in the hands of another southpaw like myself, but he cruised through the process of installing the ambi bolt release, mag release, safety and bolt catch.
At the station where charging handles are assembled, a run of ambi Rattlers was in the works. The "Don't Tread On Me" and all of the other laser engraving is done about fifteen feet from here on POF's own machine.
A fresh run of Archangel charging handles had recently finished final assembly. These are a good example of  POF's newer focus on providing more creative options to customers. They still offer their solid standby rifle designs, but have also been adding more streamlined and creative options to the product line in recent years. So, does a handle with the wings and sword of an avenging angel charge better? We'll have to see, as I did get one of these before leaving, to add a custom touch to a current AR build that is in the works.
Every POF upper heads out the door with their American Flag / God Bless America ejection port cover. From chatting with Jaryd, who was showing me around, this is a big deal to the company and a part of their values. They are really proud to produce a US made rifle.
Regarding POF's design, production and assembly of rifles, one theme that came to up multiple times  is quality control. Many of the workbenches had calipers sitting out for checking measurements. Every part of the gun is checked before it leaves the building. Currently, about 85% of a Patriot Ordinance Factory weapon is made in house, with specialized work, such as barrel production, produced elsewhere to their specs. This makes sense for a company that guarantees at least one MOA with 14.5″ to 20″ barrels.
Every POF rifle is individually test fired in the factory before it gets boxed up and heads out the door. This lets them sort out any personality quirks before the buyer flips the safety off for the first time. Their techs test each gun with not only brass but also steel cased ammo.
As one of the first production steps, every POF barrel is matched to a gas block and they are serialized as a pair. This way, the set can be checked for matching tolerances while still in the white. Then, both parts are nitride heat treated before final assembly.  Since both items are separately finished, there aren't any "hidden" bare areas of steel under the gas block, which prevents a possible corrosion issue at some point down the road.
POF has the only machine in the country that can add E² extraction technology to their barrels. H&K had a similar idea with fluted chambers back in the day, but their implementation was not designed to be reloading friendly, since it mauled brass. This is not the same as E², which has been tweaked to create just enough of a nudge to help ensure extraction. It is designed to not hurt the brass, other than a smudge mark which you can wipe off with your shirt. Come to think of it, wiping all the marks off your brass with your shooting buddy's shirt when he's not paying attention might be a better plan.
A big part of POF's ultimate bolt carrier group is the one piece carrier. They machine the carrier body and gas key as a single unit in the production side of the building. Because of this one piece design, the staking of gas key screws is never a concern.
For me, one of the neatest parts of the trip was seeing how their handguards are made. They start out as extruded tubes that are cut to length and then finished, in house.
This is the machine that is tasked with turning the tubes into handguards. Just judging by the number of tools required, you get a feel for the fact that this is not a simple process. After machining, the freshly minted handguards are collected and QC checked before finishing.
The finished handguards are sorted and organized by size and type, awaiting their place on a new rifle.

POF apparently has a long list of new ideas that are in the works. Some of these are still rather hush-hush and I'm not going to argue the point with a bunch of guys in a room full of rifles. But, they did have an assortment of rifles that are parts of different projects in various stages of testing, such as the 300 Win Mag rifle that is supposed to be available before the end of this year.
Another new design that I saw ready for test firing was one of the new Renegade+ rifles. This is a fully ambi, billet lower gun with a 16.5″ barrel, weighing in at under 6.5 pounds. When picking one of these lighter designs up and comparing it to a regular AR, you can really tell the difference.
Overall, I left with the feeling that Patriot Ordinance Factory is really a good group of folks who take pride in hand building one of the best AR options out there. They are continuously working to improve the platform and offer innovative features to their customers. If you are looking for something that goes above and beyond milspec, then they are well worth a look.