MI SPLP Sight Package Review
Optics have become standard fare on the modern AR. However, rifles get dropped, batteries die, screws come loose, glass breaks and reticles can sometimes refuse to point in the same direction as the barrel. Because of this, it is not uncommon to see rifles that have both some kind of glass and iron sights. For a rifle that might be used in an emergency situation, having a backup aiming system just makes sense.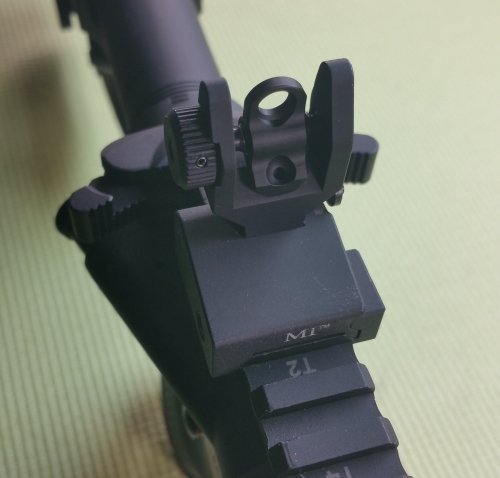 Since our most recent AR build used the MI G3 Handguards, we matched them up with Midwest Industries SPLP Sight Package. This set consists of the MI-LFFR front sight and MCTAR-SPLP rear sight. Both of these are flip-up style sights that can be manually raised with a single finger and lock upright.
To lower the sights, the user has to depress the button on the side of the sight in order to release the lock that holds them open. When folded shut, they lay flat enough to be out of view with the optics that we tested. They are mounted to the rail by tightening a single flathead screw on the side of each sight. When the sight are torqued down, there is no play. We've had our set installed for weeks now and they are still snug.
Both sights are adjustable and similar to the classic design. The front sight uses a standard A2 front sight post and adjusts easily with the common sight tool. The rear sight is adjustable for windage like a M-4. When shooting, they provide a clear and familiar sight picture. The Midwest Industries SPLP Sight Package is a good option for anyone that is looking for an all metal set of backup sights.