Best of SHOT Show 2023
SHOT Show 2023 is in the bag with a week of walking up and down convention center isles to see the latest and greatest gun-related stuff for the coming year. The crowds were back this year as well after last year's light attendance. So, here is our list of "Best of SHOT Show 2023" with some of the most interesting items that we found. Not all of these are from the big, elaborate booths on the second floor, as downstairs often has some hidden treasures.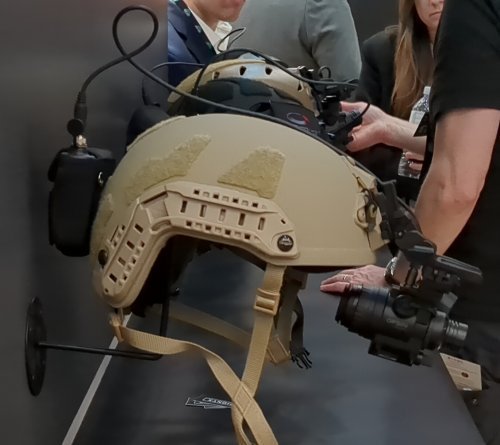 There were plenty of folks showing off traditional tube-based night vision setups, but the Sionyx Opsin was the most interesting digital night vision monocular on display. I had the chance to play with one for a bit in a dark room and was impressed by how far they have been able to take the technology. We are hoping to take the Opsin out into the real world later this year and gather more details on how it performs. 
 
 The Pavashot Stickshot is a newer take on nonlethal self-defense everyday carry. It is about the size of a dry-erase marker but is a single-shot pepper powder launcher with a fifty-foot range. Compare this to the fifteen-foot range of the Taser Pulse or the eighteen-foot range of Sabre Pepper Gel and now you have something that can deter a threat down the hallway at work.
 
Optic Irons were showing off their prototypes that fixed the problem of where to put the rear sight in relation to the red dot on a semi-auto pistol. There are different models in the works for a variety of different optics setups, but this is something to keep an eye out for on machined slide pistols.
Also in the prototype category, Holosun had demo units for some of their new red dot optics. What really sets these apart from the competition are the two models that incorporated night vision or thermal on top of the red dot. When looking through the red dot optic, there is an overlay of the additional image data. After playing with both of these for a few minutes, I am really interested to see how the final versions turn out.
Polymer80 was on hand to show off their updated P80 frames. There have been a few updates that were needed to gain compliance with some of the ever-changing laws. Although these changes do not make them "OK" in about a dozen states, a few of these are states that you would consider when looking for the next place to call home.
Glock was mostly sticking with what works this year. They had a few more Glock pistols that looked remarkably similar to all the existing Glock pistols. But, the real surprise was the new flat trigger shoe Glock Performance Trigger which has incorporated a sear into the design. As for feel, it brings the factory trigger up to an aftermarket trigger level, while sticking with all Glock parts. Still a Glock trigger, but a little better.
Every year, SHOT Show seems to have more suppressor offerings trying to push the technology of cans forward. Considering the long ATF wait times, your silencer might be outdated by the time you actually get to shoot it. For good news though, Griffin Armament had their new Dual-Lok models out on display with one of the best thought-out attachment methods that I have seen yet. 
Forster Products showed off the prototype for the Co-Ax XL reloading press. Although this is absolute overkill for anyone not getting into 50 Cal or similar, this press was built like a tank.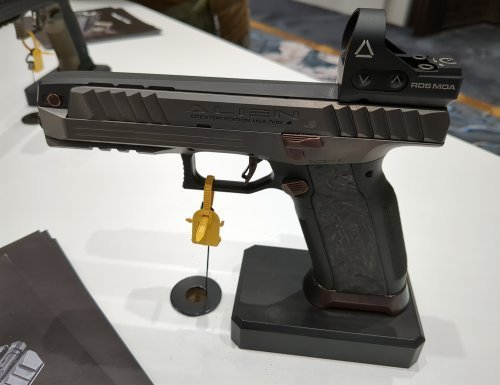 Laugo Arms had a few different versions of the Alien pistol on display. If you thought that the 1911 folks could build an expensive semi-auto, a Czechoslovakian engineer said "Here, hold my beer". That said, the more I look at one of these, the more it seems like there is a reason to get one. It really is a neat design with non-reciprocating sights and a low bore axis.
Every year Maxpedition tries a few new designs and this time around the most interesting new pack is the Tehama 37L. If you have ever had the chance to take a look at one of their backpacks, then you are already familiar with the build quality. The highlights of this model are a removable framesheet, dual water bottle holders that zip to reduce the size, and multiple external pockets for organization. 
Magpul and Maztech are working together on the X4 Fire Control System, which lets you turn a standard low-power variable optic (LPVO) scope into something out of one of the latest sci-fi video games. The system basically mounts a heads-up type display screen in front of a standard scope to add details such as ranging information, compass direction, and round count to the shooter's view. 
The Range Network has an interesting idea of teaming up shooting ranges so that individual shooters can join their club and go shooting at any participating location. This would be a nice option for folks who travel around the country, own an RV, or want to try out different ranges. I can think of worse excuses for traveling.
If you are considering a 5.7 pistol, the Palmetto State Armory Rock is one of the nicest that I have felt in the hand so far. As with most things PSA, there are plenty of variations available with regard to colors, optics mounts, or even bundles that come with ten magazines.
One of the good ideas that would fall under the "why didn't someone think of this years ago" category is the Roll Pin Wizard. Before this tool, if you did not want to scratch up the finish on your AR lower when installing or upgrading the bolt catch, the common fix involved a good amount of blue masking tape and a little luck. A small bottle of Birchwood Casey Aluminum Black was a good backup plan for hiding the occasional "oops". But, this special punch and guide tool combo makes it much more challenging to add random inscriptions on the side of your lower.