Best of Shot Show 2022
After a bit of quiet time, the Shot Show is back in Las Vegas for 2022 and somehow even bigger this year. We had the chance to chat with a lot of the folks in the industry and check out their latest projects. A common theme is delays related to suppliers and shipping, but everyone seems to be trying to find ways to work through the problems as best they can. Even with these setbacks, there is a lot of innovation, new ideas and just interesting finds.
Magpul has several new products lined up for this year, such as their flatter MBUS AR sights. But, the most interesting one is the new "Lite" version of their Pro 700 stock. If you are ok with a rifle chassis that does not fold and requires tools for adjustments, then this model is a couple of pounds lighter and about half the price of its slightly older brother. After getting to handle one, it feels like they kept the key features and now have a model with a really competitive price point in the rifle chassis world.
Palmetto State Armory has a number of interesting things at their Shot Show booth, but what really pops out is the new Rock 5.7mm pistol. If you are in the market for a 5.7 and can wait a couple of months, then this one might be worth the wait. It feels good in the hand, has an impressively good trigger, holds twenty-three rounds in the magazine and a price point in the five-hundred-dollar neighborhood. This will likely be the pistol that gets me on the 5.7 bandwagon this year.
There are a few folks with new AK triggers at the show, but Hiperfire has by far the best feeling pull without moving into a three-digit price point. The difference over stock parts is enough to make you stop and look down at your rifle to make sure that what your holding is really an AK. If you are in the market for an upgrade, definitely give this one a look.
There are also many walls of nice looking AKs at Shot Show booths such as Kalashnikov and PSA. If you are thinking of picking up an AK, this could end being the best shopping year in a while for 7.62×39, .223 or even 5.45 versions. Zastava has an interesting twist with a prototype .308 AK design that takes proprietary mags and sports their adjustable gas system. We'll have to wait and see if production models end up making the trip over from Serbia.
Accufire Technology was showing off their scopes and even more interestingly their thermal optics. I got a few minutes of hands-on time with the prototype for a new model coming out later this year which can be used as a standalone viewer or mounted in front of an existing optic to provide thermal capability. It would be a real trick for night hunting or scanning your property to see what was making all that noise over by the trees.
Based on some of their new products, FN has apparently never seen the ending of any of the Terminator movies. I plan to mail the boxed set and a big bag of popcorn to their R&D team next week after Shot Show is over in an attempt to save us all.
While there are more nice-looking suppressor options every year, Energetic Armament is really moving the bar with the design of their Vox centerfire can. The baffle stack is C300 maraging steel, which was specifically designed as part of the space program to maintain strength when glowing red hot. They are also laser welding a Stellite ring to the end of every baffle to maximize lifespan. The can is designed to be easily re-cored if something bad happens and pretty much everything is covered under their warranty.
  I also did get the chance to chat with an ATF agent at their Shot Show booth who confirmed that their IT folks are currently working through technical issues with the desperately needed Form1/Form4 paperwork processing upgrades. But, progress is being made. He seemed just as excited by the potential improvements as the rest of us.
C&G Holsters was showing off their new products, including the Soft-Kit AR and pistol mag pouches. They have enough structure to want to stay open and there is not a separate mag retention strap or elastic band to have to work around. The pouch has a traction strip sewn into the inside that provides enough grip to keep mags in place. We also had the chance to chat for about what they think makes their holsters such as the new MOD1 LIMA appendix carry better than the other one hundred and sixteen (not kidding) holster folks at the show. The key points are they vacuum form their thicker Kydex on metal molds and CNC machine the result for a consistently dialed-in product. Also, the folks who design the holsters for over 175 different gun models are drawing on years of military and law enforcement experience. Some are even available for southpaws. 
Civilian Warfighter has a demo of their Cerberus visual disruption device. Their design is based on about ten years of military research. They were kind enough to blast me in the face with this thing. After being on the receiving end, it is a very different experience than even an extemely bright tactical flashlight. It feels as if there is a green wall right in front of you and is extremely unpleasant. The Cerberus could give the armed homeowner help with target identification but also one last option before needing to pull the trigger.
If gummy bears haunt your dreams, you now have the chance to get even over and over again. Clear Ballistics has gel blocks that can be cooked down and reused multiple times if you literally want to see how specific ammo performs out of your firearms. Since their gel is synthetic, there are not storage issues or density questions related to the gelatin to water ratio of home brewed blocks.
RealAvid has some new tool kits that would be a dream come true for the serious home gunsmith. Their is now an expanded version of their AR kit which includes a number of different weapon specific wrenches. Their new gun vice is the nicest one I have seen, with a ton of adjustment. It was designed to make it easy to move the gun around for you rather than you have to move around the firearm to get work done.
If you have a 308 AR that just does not have enough "umph" to keep you happy, then Bishop Ammunition & Firearms has the AR475 upper. This runs 475 Bishop Short Magnum which is the largest case that you can get to function in the platform. It will throw a 390 gr solid copper hollow point downrange at 2,500 fps with 5,500 foot pounds of muzzle energy. Their marketing is that this will kill anything on the planet and if I had a polar bear problem in my backyard, eight rounds of this on tap would make it seem rather solvable.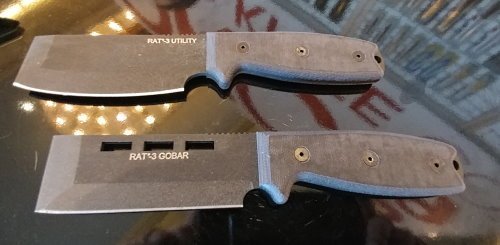 One of the designers from Ontario Knife was on hand to chat about some of their upcoming products. The new model that looked the most interesting from an emergency preparedness point of view was the Rat3 Gobar. It is a marriage of the classic Rat3 survival knife design with a sharpened prybar. The blade is 1075 steel and only the bottom is a cutting edge. The front prying edge could really provide the ability to use this to do some rather un-knifely things in a pinch that would be best avoided with fancier steels and more expensive blades.
 On The Mark Industries has quite the impressive reloader on the Shot Show floor that can crank out 400 pistol rounds a minute. With all the assembly steps and safety checks going on under the hood, this is an amazing reloading factory in a box for anyone with a hundred friends that all want to go in on one. My hope is that my wife just thinks that my cleaning a big spot out in the basement next week is altruistic and does not catch on until the shipping truck pulls around back of the house. Then, it will be too late to send the machine back and we'll just have to keep it.