Easy Pantry S'mores On the Survival Grill
Easy Pantry S'mores
On the Grill
Just 3 ingredients and you'll have a way to turn the next power outage into an "indoor camping trip" for the kids.
Ingredient list for 6 s'mores:
Six graham crackers, halved to make 12 pieces.
72 chocolate chips 12 for each s'more.
Six tablespoons marshmallow crème.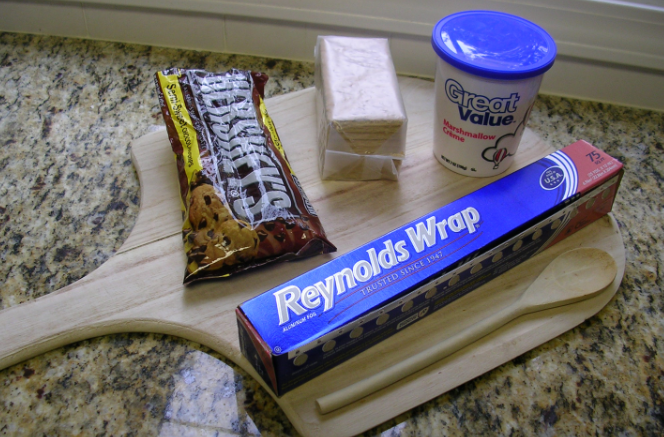 Equipment needed:
Aluminum foil
Wooden spoon
Oven mitt or hot pad or both
Wooden pizza board, great for outdoor food prep, but optional
Step by step directions:
1. Place six graham cracker halves on a large piece of foil that can be folded into a packet.
2. Center each cracker with a generous tablespoon of marshmallow crème.
3. Top each crème with a dozen chocolate chips.
4. Place remaining crackers on top.
5. Close tightly to form a grille sized packet.
6. Preheat covered survival grill with regulator opened to 1/2 position.
7. Turn off heat. Place packet on grill and replace cover. S'mores are ready to be eaten in 3 to 4 minutes.
Tip: Remember that the grill temperature is lowered by removing the lid and increased by leaving the lid in place and allowing time for the temperature to increase. A good practice to assure even baking is to check the thermometer every 5 minutes.
From the test kitchen of Robinson Crusoe Recipes